Overview
Your Achilles tendon is located at the back of your foot, just above your heel. It connects your heel to the two muscles of your calf and helps your foot push forward every time you take a step. If the tendon becomes swollen or irritated due to overuse, it can lead to the painful condition called Achilles tendonitis. If Achilles tendonitis goes untreated, it can become a chronic (ongoing) condition that makes just walking around almost impossible. Achilles tendonitis is a very common running injury. But it can also affect basketball players, dancers, or people who put a lot of repeated stress on their feet. It can be very painful.
Causes
Sometimes Achilles Tendinitis is a result of sudden trauma, as you might encounter from playing sports, but you can also have Achilles tendon pain as a result of small, unnoticed, day-to-day irritations that inflame the tendon over time by a cumulative effect. In those with no history of trauma, Achilles Tendonitis is sometimes associated simply with long periods of standing. There are several factors that can cause the gradual development of Achilles Tendinitis. Improper shoe selection, particularly using high heels over many years, increases your odds of developing the condition. This is because high-heeled shoes cause your calf muscles to contract, leaving the tendon with a lot less slack in it. Inadequate stretching before engaging in athletic or other physically-demanding activities also predisposes you to develop the problem. This is especially true in "weekend athletes", individuals who
tend
to partake in excessive physical activities on an intermittent basis. Biomechanical abnormalities like excessive pronation (too much flattening of the arch) also tends to cause this condition. And it is much more common individuals with equinus. It is more common in the middle-aged, the out-of-shape, smokers, and in those who use steroids. Men get the condition more frequently than women. Those involved in jumping and high-impact sports are particularly vulnerable.
Symptoms
Most cases of Achilles tendonitis start out slowly, with very little pain, and then grow worse over time. Some of the more common symptoms include mild pain or an ache above the heel and in the lower leg, especially after running or doing other physical activities, pain that gets worse when walking uphill, climbing stairs, or taking part in intense or prolonged exercise, stiffness and tenderness in the heel, especially in the morning, that gradually goes away, swelling or hard knots of tissue in the Achilles tendon, a creaking or crackling sound when moving the ankle or pressing on the Achilles tendon, weakness in the affected leg.
Diagnosis
During an examination of the foot and ankle, you doctor will look for the following signs, Achilles tendon swelling or thickening. Bone spurs appearing at the lower part of the tendon at the back of the hell. Pain at the middle or lower area of the Achilles tendon. Limited range of motion of the foot and ankle, and a decreased ability to
flex
the foot. Your doctor may perform imaging tests, such as X-rays and
MRI
scans, to make a diagnosis of Achilles tendinitis. X-rays show images of the
bones
and can help the physician to determine if the Achilles tendon has become hardened, which indicated insertional Achilles tendinitis.
MRI
scans may not be necessary, but they are important guides if you are recommended to have surgical treatment. An
MRI
can show the severity of the damage and determine what kind of procedure would be best to address the condition.
Nonsurgical Treatment
Treatment can range from cold compress and heel pads for minor cases, to physical rehabilitation, anti-inflammatory medicine, ultrasound therapy, and manual therapy. If you are a Michigan resident that suspects they have Achilles Tendinitis, please contact Dr. Young immediately; Achilles Tendinitis, if left untreated, can eventually result in an Achilles Tendon Rupture, which is a serious condition that is a partial or complete tear in the tendon. It can severely hinder walking and can be extremely painful and slow to recover.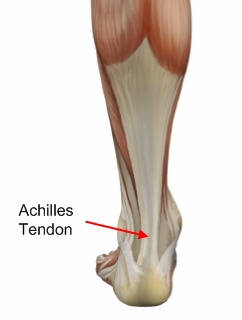 Surgical Treatment
In most surgeries, damaged tissue is cleaned out before surgeons make the necessary repairs. However, a new minimally-invasive surgery to repair a torn Achilles tendon actually uses the damaged tissue to help repair the tear. The percutaneous Achilles repair system, or PARS technique, enables surgeons to better repair a torn Achilles tendon through a smaller incision. This procedure was recently performed at Houston Methodist Hospital to treat an
NFL
cornerback, getting him back on field for this season.
Prevention
Suggestions to reduce your risk of Achilles tendonitis include, icorporate stretching into your warm-up and cool-down routines. Maintaining an adequate level of fitness for your sport. Avoid dramatic increases in sports training. If you experience pain in your Achilles tendon, rest the area. Trying to ?work through? the pain will only make your injury worse. Wear good quality supportive shoes appropriate to your sport. If there is foot deformity or flattening, obtain orthoses. Avoid wearing high heels on a regular basis. Maintaining your foot in a ?tiptoe? position shortens your calf muscles and reduces the flexibility of your Achilles tendon. An inflexible Achilles tendon is more susceptible to injury. Maintain a normal healthy weight.